My title is a bit deceiving - retail sales definitely do show strong seasonal trends driving by year-end holiday buying. As the chart makes evident, retail sales are very seasonal.  For GAFO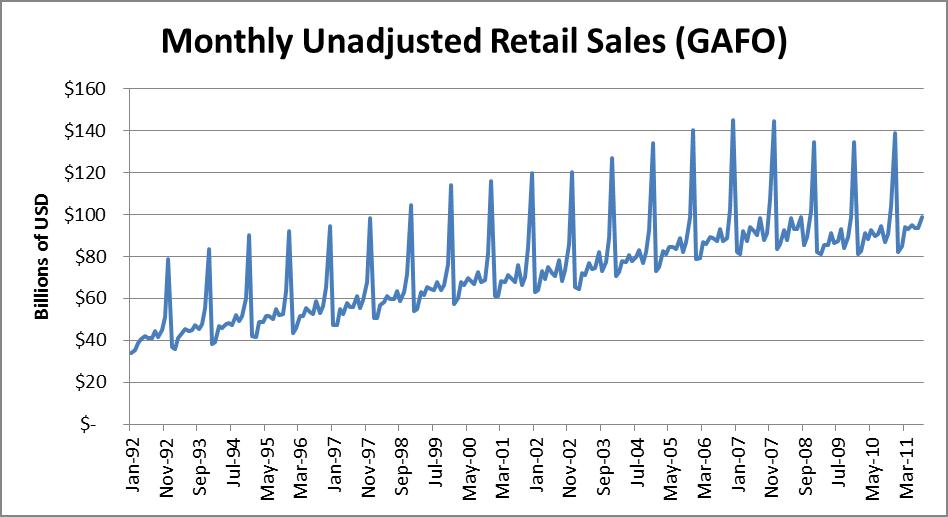 , which represents stores that specialize in department store types of merchandise (furniture & home furnishings, electronics and appliances, clothing & accessories, sporting goods, hobby,
book, music, general merchandise, office supplies, stationery, and gift stores), December sales represent about 12 percent of the annual total retail sales and November and December combined represent about 21 percent of annual retail sales.
At the same time, consumer surveys suggest consumers are continuing to push purchasing later into the year.

  In just the last few years an increasing number of consumers are reporting they are beginning their holiday shopping later in the  holiday season (and therefore later in the year).  This would seem to suggest that we would see a greater portion of annual retail sales represented by November and December.  As I recently wrote, consumers are increasingly delaying their purchasing in anticipation of deals, discounts, and bargains that materialize later in the holiday selling season (ie Black Friday). But when one looks at the contribution November and December sales make to annual retail sales the share for November and December doesn't appear to be changing  - at least not according to the official statistics.